5 Reasons Why You Should visit Gibraltar
01 July 2021 ·
3
min read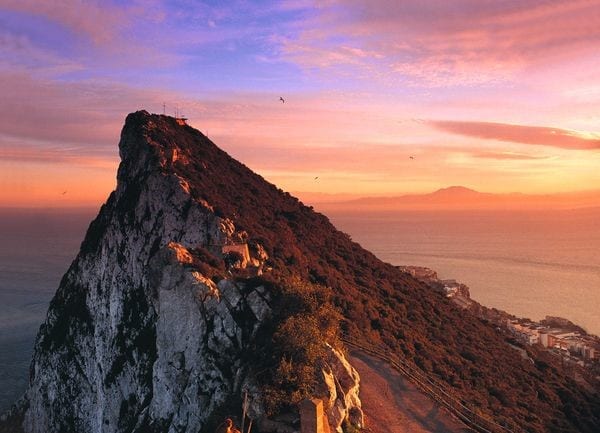 The Perfect Location for Wonderful Sunsets
Gibraltar is a destination of sunshine and radiation with its Mediterranean climate. Luckily, for most of the year, you can be sure that during your visit you will have the nice weather on your side to go for a nice meal on the marina or just for a walk to the harbour and get a glimpse of the beautiful sunset. Our favourite place to really appreciate the sunset is Europa Point located at the end of the Rock of Gibraltar, where you have the widest view of the sea – you do not want to miss it, the views are so Instagrammable!
Be the Tourist and Explore the Rich History at Some Excellent Sights
Gibraltar is steeped in history and culture and is one of the main reasons why it attracts so many tourists' year on year. The beginning of Gibraltar's history dates back many millenniums ago, leaving the country immersed in history and giving tourists with an itch for European history plenty of attractions to visit on their holiday.
A historic building from the 14th century gives place to the Gibraltar Museum. The museum is the country's National Museum for history, culture and natural history. It is located in the city centre and just 3 minutes' walk from the Eliott Hotel. It is open to the history savvy's between 10am-6pm on weekdays and between 10am-2pm on Saturdays. You can buy tickets at the museum entrance for £5 for an adult and £2.50 for the little ones under 12. Why not spend the day learning and educating yourself on Gibraltar's history and culture? You can't put a price tag on knowledge!
A must see in Gibraltar is the Great Siege Tunnels which were dug out from the solid limestone by the British during the Great Siege of Gibraltar at the end of the 18th Century. We suggest booking a guided tour with Gibraltar Rock Tours to see the Great Siege Tunnels in all their splendour.
Perfect Place to be Sportive
If you enjoy a challenge and you don't fear heights, hike up the Rock of Gibraltar which is 426 metres high or walk up the awesome Mediterranean Steps, either one would be a thrilling achievement. The view overlooking Gibraltar will take your breath away, making it so worth the hike!
In the early morning when it is all quiet and the air is fresh and crisp, you can do your daily exercises around the Rock and either choose the west side near to the beaches or the east side in line with the harbour and get those early morning snaps for the Instagram feed!        If walking or hiking isn't your thing, don't worry – you will get your steps in some way no doubt! There are modern and state of the art facilities and amenities on offer – football pitches, basketball grounds, water sports such as Surfing, Jolly Parrot Sailing and many more. Gibraltar is an inclusive destination; you can be confident that you and your family will find something to enjoy together.
Discover the Wildlife
Gibraltar is an animal lovers dream especially those who love nature on Earth, in water and in the air, too. You will be amazed at how rich the sea life is and how many different species of birds will cross your path.
You can witness flocks of birds during migration in Spring, as they usually stop to rest and feed before they continue their journey. Fun fact for all you bird lovers out there – Did you know that there are 15 different species of seagull that can be found in Gibraltar? Keep your eyes peeled when you're out and about and keep count of how many species you spot! For more information about birds, you can visit the website The Gibraltar Ornithological & Natural History Society.
And of course, we can't forget about the monkeys, the famous residents of Gibraltar.
The Apes, locally known as Barbary apes, have been living on the Rock for centuries – they live quite the lavish lifestyle given that they are treated like royalty by residents and tourists. Pro tip; don't forget during your trip that you are entering their home and you are the guest, just in case they get a little cheeky or feisty.
Taste the Local Cuisine
Gibraltar is a real multi-cultural place where you can taste the world under one roof per se. Of course, they have their own specialities like Calentita made from chickpea flour or the Rolitos, which is a thin slice of beef surrounding breadcrumbs, bacon, eggs, olives, vegetables and herbs. We highly recommend trying Gibraltar's local cuisine, expand your taste buds a little and you won't be disappointed in the slightest. If local dishes aren't your thing, that's okay too – if you prefer Italian, Indian, British, Spanish, Thai or American cuisine, you can be sure you will find your own favourite dish in the local restaurants.
We hope these five reasons to visit Gibraltar are convincing enough for you to book a sun holiday and experience Gibraltar in all its glory – you won't be let down and guaranteed you will become a frequent visitor after falling in love with the place, a home away from home perhaps?
Here at the Eliott Hotel, we have fantastic offers and special packages for you to consider when booking that exclusive holiday to Gibraltar. We look forward to welcoming you!